Vos hôtes, Urs et Denis sauront vous choyer par un service sympathique et soigné.
---
Sie werden von Ihren Gastgebern Urs und Denis verwöhnt und kommen in den Genuss ihres sympathischen und gepflegten Services.

---
Your hosts, Urs and Denis, will spoil you with their friendly and attentive service.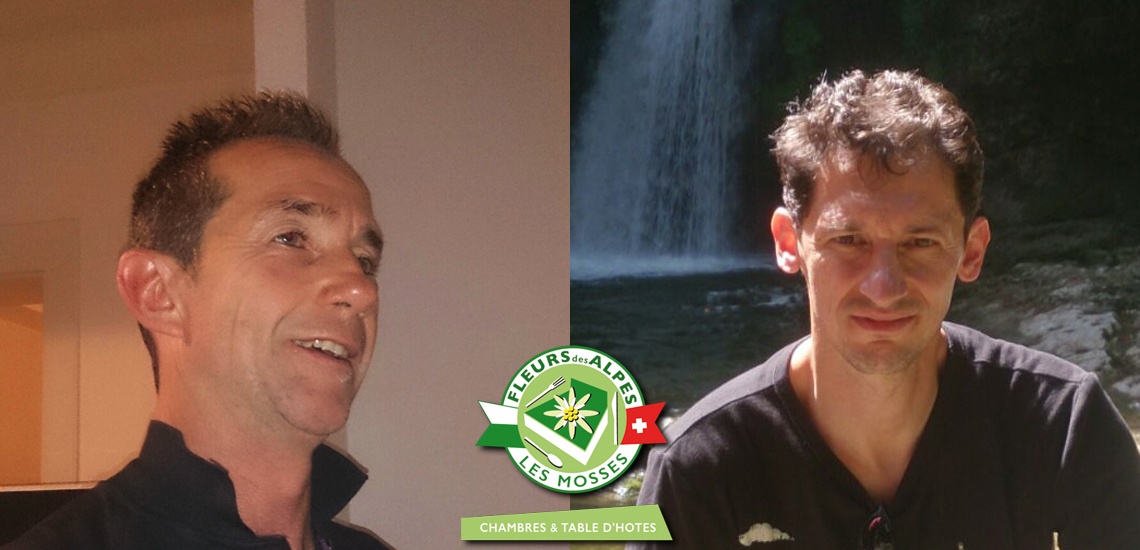 Urs: Un projet , une aventure et tant de plaisir à …

partager mon hobby et ma passion avec Denis qui vous fera découvrir ses talents culinaires et gastronomiques


échanger et partager avec vous, car j'aime le contact humain

prendre du temps avec des amis dans un cadre convivial

oublier et faire oublier pour un moment le stress et le quotidien

vous faire découvrir un cadre simple qui inspire le rêve et la sérénité

retrouver le calme, la nature, le vrai partage

tout simplement vous faire plaisir!

Depuis ma première saison à Crans Montana en 1994, je suis tombé sous le charme des chalets et de la vie montagnarde: simplicité, paysage, nature, rythme, calme et repos.

11 ans plus tard Urs à croisé ma route et partage la même passion.
12 ans ont passé et nous avons décidé de tenter l'aventure: Faire partager cette passion et ce mode de vie au coin de la cheminée, autour d'une tablée accompagné d'une bonne bouteille.
Urs: Unser Projekt, Freude, Abenteuer . . .

Mein Hobby und meine Leidenschaft mit Denis zu teilen und dass Gäste von seinem Talent in der Gastronomie profitieren können

Mit Menschen schöne Momente zu geniessen, ich liebe Menschen

Zeit zu haben, Freunde zu verwöhnen und sie in einer familiärer Stimmung begrüssen zu können

Um Menschen zu helfen ihren Alltag und Stress zu vergessen

Freunde und Gäste glücklich zu machen und sie fröhlich zu sehen

Menschen zu zeigen, dass man Träume mit einfachen Mitteln verwirklichen kann

Mich in der Natur und Ruhe zu befinden und um ehrliche, echte, gemütliche Momente teilen zu können
Seit meiner ersten Saison in Crans-Montana 1994, bin ich verliebt in die Schweizer Chalets. wie auch in das Leben in den Bergen, mit seiner Einfachheit, der Landschaft, Natur, Lebensrhythmus, Ruhe, Erholung,  einmalig und traumhaft.

11 Jahren später habe ich Urs auf meinem Lebensweg kennengelernt. Er teilt mein Hobby, meine Leidenschaft.

Inzwischen sind weitere 12 Jahren vergangen. Wir haben beschlossen dieses Abenteuer zu wagen.  Das Leben in der Natur in unserem Chalet bei einem Cheminéefeuer an einem Tisch voller Gäste mit einem guten Glas Wein.
Urs : A project, an adventure … so much pleasure

Sharing my hobby and passion with Denis who will delight you with his culinary and gastronomic talents

discussing and sharing with you, because I am a people person

taking time to be with friends in a friendly atmosphere

leaving behind the stress of daily life and helping others to do the same

providing you with a simple environment that inspires serenity and well-being

rediscovering peace, nature and true sharing

simply helping you to enjoy yourself !
Since my first season in Crans Montana in 1994, I fell in love with the chalets and mountain life : simplicity, magnificent landscapes, nature, rhythm of life, peace and relaxation.

11 years later Urs crossed my path and shared the same passion.

12 years have since gone by and we've finally decided to embark on our adventure. To share our passion and way of life by the fireside, around a cozy table accompanied by a fantastic bottle of local wine.
Site internet et photographie: © Dan Zapf
Macro photographie: © Frédéric Charrière